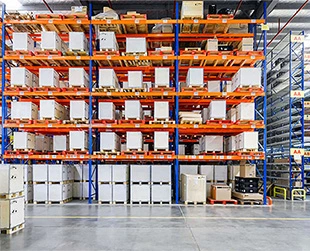 India's Leading Heavy Duty Rack Manufacturer For Efficient Warehousing 
Mex Storage Systems Pvt. Ltd. is a leading manufacturer and supplier of industrial storage solutions and storage racking systems for the most demanding warehouses, industries, distribution centres and so on. 
With decades of extensive experience and expertise, we specialise in engineering a wide array of storage racks for industrial use including heavy duty racks, pallet racks, cantilever pallet racks, etc. 
We at Mex Storage Systems are widely known for our comprehensive range of highly efficient and high-performance heavy duty racks across India. Being counted among the most prominent heavy duty rack manufacturer in Delhi (throughout India), we have also always accommodated our clients with best-in-class heavy duty racking system that meets the highest quality standard. 
We provide our clients with a comprehensive range of highly efficient and cost-effective storage racks 
We offer high performance & cost-efficient storage racks  
A complete range of industrial and warehouse storage rack 
A team of expert engineers & designers 
We assure on-time delivery while meeting your high-volume production capacity needs 
A Complete customer support and assistance  
Highly Efficient & Personalised Heavy Duty Rack In Delhi
Our team of expert racking system engineers and designers has the ability to engineer fully customisable heavy duty racking system which has already been backed by millions of clients throughout Delhi. This is why we are renowned as one of the most eminent Heavy Duty Racks Manufacturers And Suppliers in Delhi.
Whether you are looking for a fully personalised Heavy Duty Rack In Delhi or industrial material storage racks that meet your diverse storage solution needs, Mex Storage Systems Pvt. Ltd. is your only answer.
What Are The Benefits Of Our Heavy Duty Racks?
With cutting-edge tools and modern technology, we strive to deliver the best of the best quality heavy-duty racks personalised to needs and demands. Our heavy-duty racks are engineered with robust, strong and sturdy mild steel assuring their longevity while meeting every budget.
We at Mex Storage Systems Pvt. Ltd. are one of the most trusted heavy duty racks suppliers in India not only because of the quality of material we use but also because of our personalised storage solutions customised according to our client's needs. Our expert engineers and designers understand your diverse heavy duty pallet rack demands and provide you with a best-fit solution while assuring the heavy duty racks are:-
High-performance and long-lasting
High goods loading capacity
Engineered for heavy goods storage
Low maintenance cost
versatile storage racks with storage racks
Made from 100% durable material
Personalised & versatile storage racking system
Specifications Of Heavy Duty Racks
| | |
| --- | --- |
| Brand | MEX |
| Material | Mild Steel |
| Height | 10-15 Feet |
| Colour | Customized |
| Product Type | Storage Rack |
| Usage/Application | Industries & Warehouse |
| Load Capacity Per Layer | 150-200 kg |
| Size | Customized |
| Surface Finishing | Paint Coated |
| Number Of Layers | 3 to 5 |
| Design | Modern |
| Country Of Origin | Made In India |
One-Stop Solution For Industrial Storage Racks in India: Mex Storage Systems Pvt. Ltd.
As a leading heavy duty racks manufacturer in India, We at Mex Storage Systems Pvt. Ltd. are committed to offerings a wide array of heavy duty storage racks for your diverse industrial demand. From heavy duty pallet racks to heavy duty cantilever racking systems to drive-in heavy duty racks, we have a complete range of best-in-class and world-class heavy duty racks personalised to meet your industrial demand.
Are you looking to increase your storage capacity with the right storage racking system? Or looking for high-quality heavy duty racks in Delhi? Look no further than Mex Storage Systems Pvt. Ltd.
We have a dedicated team of expert engineers and rack manufacturers who can offer you the best-fit storage solution personalised to your demands and needs. So what are you yet waiting for? Contact us right away and let us take your bland storage capacity to another level.
Our Top Products With Manufacturers
Related Question
What Is Heavy Duty Rack?

Heavy duty rack is a popular industrial storage racking system commonly used across a comprehensive range of industrial buildings, warehouses, and distribution centres to store heavy and bulky merchandise or industrial goods.

Why Mex Storage Systems Is The Best Heavy Duty Rack Manufacturer In Delhi?

As a trusted heavy duty racks manufacturer in India, Mex Storage Systems Pvt. Ltd. offers a comprehensive range of custom-built and affordable heavy-duty racks personalised to your unique industrial storage solution needs and budget. From customisable and long-lasting heavy-duty racks to superior customer support with short delivery time, we have everything that best fits your unique racking system demands.

What is The Goods Loading Capacity Of Your Heavy Duty Racks?

The goods loading capacity of heavy duty racks depends on the type of merchandise and goods that needs to be stored. We can engineer quality heavy duty racks with heavy goods loading capacity personalised to unique requirements and budgets within short delivery span.

Does Heavy Duty Rack Meet Your Warehouse Storage Solution Demand?

Heavy-duty racks are robust, cost-efficient and long-lasting warehouse storage racking systems that not only maximise the physical location of your warehouse but also ramp up warehouse productivity and efficiency.

What Is The Best Material For A Durable Heavy Duty Rack?

Steel mainly mild steel is commonly used to build heavy-duty racks. The robustness and strength of steel help heavy-duty storage racks offer maximum durability that lasts for many years to come.