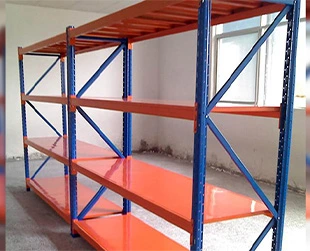 Premier Destination For Storage Rack Manufacturers in Delhi
When it comes to finding a reliable and high-quality Storage Rack in Delhi, Mex Storage Systems Pvt. Ltd. is the name that comes first in our mind. As one of the foremost Storage Rack Manufacturers in Delhi, we provide durable and customizable storage racks at competitive prices to meet your specific requirements. We offer an extensive range of industrial storage racks in India designed with Mild Steel to optimize space utilization, enhance productivity, and ensure the safety of your inventory, with each layer capable of handling up to 50 kg of weight.
Buy from the Best Storage Rack Supplier in India
Take your storage solutions to the next level with our Free Standing Units that have paint-coated surface finishing. Contact us- one of the foremost Storage Rack Suppliers and Wholesalers in India now to explore our wide range of high-quality warehouse storage racks in India and elevate your organization's storage capabilities. Experience the difference today!
How Does Storage Rack in India Help You To Maximize Storage Space?
Storage Racks in Delhi help you to maximize storage space by:
Utilizing vertical space, allowing for stacking and multiple levels of storage.
Providing organized shelving or compartments to efficiently store items.
Allowing for easy accessibility and visibility of stored items, reducing time spent searching.
Optimizing floor space by eliminating clutter and creating a more streamlined storage system.
Offering customizable options to fit specific storage needs, such as adjustable shelves of up to 5 or modular designs.
Specifications Of Storage Rack
| | |
| --- | --- |
| Brand | MEX |
| Material | Mild Steel |
| Height | 4-5 Feet |
| Colour | Customized |
| Product Type | Free Standing Unit |
| Usage/Application | Industrial |
| Loading Capacity Per Layer | 0-50 kg |
| Size | Customized |
| Number Of Shelves | 5 Shelves |
| Surface Finishing | Paint Coated |
| Design | Modern |
| Country Of Origin | Made In India |
Leading Storage Rack Manufacturers in Delhi, India
As an Indian company, we take pride in delivering high-quality storage racks that are MADE IN INDIA. We employ cutting-edge technology and adhere to strict quality standards during the manufacturing process. As one of the preeminent Storage Rack Manufacturers in India, we offer warehouse storage racks with heights of up to 4-5 feet. Our racks are designed to withstand heavy loads, ensuring stability and longevity. Whether you require an industrial storage rack or a free-standing unit, when searching for Storage Rack Near Me, we are the top choice.
Factors to Consider Before Buying a Storage Rack:
Before deciding to buy Storage Racks in India, it is essential to consider the following factors:
Types of items to be stored.
Available space and dimensions.
Weight capacity and load-bearing capabilities.
Durability and material quality.
Ease of assembly and installation.
Customization options for specific storage needs.
Budget and cost-effectiveness.
Safety features and compliance with regulations.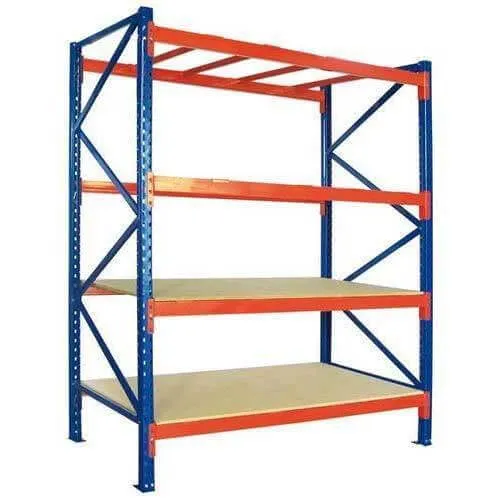 Our Top Products With Manufacturers
Related Question
What Are The Benefits Of Using A Storage Rack?

Storage racks offer several benefits in organizing and maximizing space efficiently. They provide an effective solution for storing items vertically, optimizing the use of available floor space. They improved visibility, allowing users to quickly locate and retrieve items without the need for extensive searching. Moreover, racks can be adjustable and customizable, accommodating a variety of items and facilitating flexibility in storage arrangements. Overall, storage racks promote efficient space utilization, organization, productivity, and safety.

How Much Weights Can A Storage Rack Support?

A storage racks weight capacity might vary depending on the kind of rack and the materials used to build it. Cantilever racks can handle up to 5,000 pounds each arm, whereas pallet racks can often carry up to 10,000 pounds per level. Shelving racks typically have a weight capacity of 250-500 pounds per shelf.

What Is The Difference Between A Storage Rack And A Shelving Rack?

A storage rack is a more heavy-duty structure that is designed to store large or heavy items. Shelving rack is typically lighter-weight and are designed to store smaller or lighter items. Shelving racks are more typical in homes or workplaces, whereas storage racks are frequently employed in warehouses or other industrial environments.

How Do I Maintain A Storage Rack?

Depending on the sort of rack you select, a storage racks upkeep needs will change. However, most racks should be inspected regularly for signs of damage. You should also clean the rack regularly to remove dust and debris.

What Are The Safety Considerations For Storage Racks?

There are a number of safety considerations for storage racks, including:

The rack must be able to support the weight of the items it is storing.
The rack must be installed properly.
The rack must be inspected regularly for signs of damage.
The aisles around the rack must be kept clear.