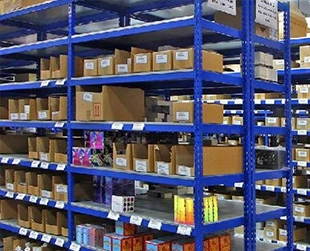 One-Stop Shop For Shelving Rack in Delhi
Looking for a Shelving Rack in Delhi? Your search ends here with MEX Storage Systems Pvt. Ltd. We are renowned Shelving Rack Manufacturers in Delhi, offering top-quality Warehouse Racks. Our racks made with Mild Steel provide ample space for proper goods storage while helping you stay organized. Not only they are stylish solutions, but they also efficiently hold merchandise up to 550 kg per layer for easy access. 
Our priority is to enhance product awareness, maximize benefits, and boost production. We excel at customizing Shelving Racks in Delhi with about 6 layers to cater to diverse customer needs, including different shapes, sizes, and high-load-bearing capacities, all at an affordable cost.
We adhere to high industry standards to provide reliable Storage Racks and Slotted Angle Racks. By combining creativity and innovation, we ensure the utmost client satisfaction. Our racking system is MADE IN INDIA with Paint Coated surface finishing. 
Leading Shelving Rack Manufacturers in Delhi
Our on-site production facility boasts state-of-the-art tools, cutting-edge technology, and carefully selected raw materials. Our expert team excels in overcoming production challenges and pays meticulous attention to every detail. As dedicated Shelving Rack Manufacturers in India, we deliver precisely designed our racks of up to 6-7ft. the height that is secure and long-lasting.
Advantages of Using Shelving Racks
Personalize and accessorize for specific needs.
Versatile and space-saving storage solution.
Easy assembly and disassembly.
Long-term and affordable storage option.
Reliable and durable for lasting use.
Enhance productivity and organization.
Ensure safe and secure item storage.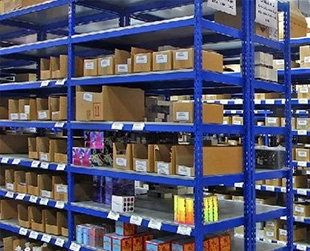 Specifications Of Shelving Rack
| | |
| --- | --- |
| Brand | MEX Storage Systems Pvt. Ltd. |
| Material | Mild Steel |
| Height | 6-7 ft. |
| Colour | Customized |
| Product Type | Storage |
| Usage/Application | Industries & Warehouse |
| Load Capacity Per Layer | 100-150 Kg |
| Size | Customized |
| Surface Finishing | Paint Coated |
| Number Of Shelves | 4 to 6 |
| Design | Modern |
| Country Of Origin | Made In India |
Why Choose Us For Shelving Rack in India?
Reputable and experienced Shelving Rack Manufacturers.
Precisely designed racks tailored to your needs.
State-of-the-art production facility with advanced technology.
Meticulous attention to detail and high industry standards.
Affordable pricing without compromising quality.
Extensive network for quick and secure rack delivery.
Focus on customer satisfaction and exceeding expectations.
Drop Your Demand At Top Shelving Rack Supplier in India
Being counted among the trusted Shelving Rack Suppliers and Wholesalers in India, we go the extra mile to meet your precise requirements within your allocated budget. With our extensive network and dedicated experts, we can promptly and securely deliver your industrial racks.
Explore our website to choose the perfect shelving rack for your sector. To contact us, simply call the number provided or send us an email today.
Our Top Products With Manufacturers
Related Question
What Is The Purpose Of A Shelving Rack?

Shelving racks are used to store and organize things in several spaces, including warehouses, retail stores, workplaces, and residences. The purpose of these racks is to provide efficient and organized storage for various items in both residential and commercial settings. They are designed to maximize space utilization and facilitate easy access to stored items, allowing for better organization, inventory management, and improved workflow.

What Is The Difference Between Racks And Shelves?

Racks and shelves are two different components of a storage system. While the terms are often used interchangeably, there are some distinctions. A shelf refers to a flat, horizontal surface that is used to store items. On the other hand, a rack typically refers to a framework or structure that supports shelves. Racks provide the structural support and framework for the shelves to rest upon.

Does The Shelving Rack Need To Be Bolted To The Floor?

The weight of the items being stored, the height of the rack, and the kind of flooring all have an impact on whether or not a shelf rack must be secured to the floor. Bolting shelving racks to the floor is a good idea, in general, to keep them from toppling over.

How Frequently Should I Get My Shelving Rack Inspected?

The regularity with which you should evaluate your shelving rack is determined by how much use it receives and where it is positioned. However, you should inspect your shelving rack at least once a year to verify it is in good condition and safe to use.

How To Select The Right Shelving Rack?

When choosing a shelving rack, there are multiple considerations to think about, namely the following:

It is also vital to select a shelving rack built of superior components and developed to fit your unique requirements.

The weight of the items being stored
The height of the rack
The type of flooring
The space available
The budget