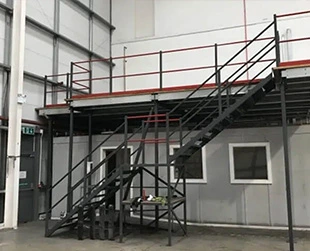 Best Modular Mezzanine Floor Manufacturers in Delhi
Are you fed up with little warehouse space and looking for Modular Mezzanine Floor to make the most of your storage capabilities? Your search ends here with MEX Storage Systems Pvt. Ltd. We pride ourselves on being counted among the premier Modular Mezzanine Floor Manufacturers in Delhi. Our expertise lies in delivering cutting-edge and efficient Modular Mezzanine Floors made with Mild Steel that unlock the untapped potential of your facility, enabling you to expand your storage capabilities like never before.
Modular Mezzanine Floor in Delhi: An Adaptive Solution for Storage.
We, one of the prominent Modular Mezzanine Floor Manufacturers in India, are dedicated to bringing innovation and modern storage solutions to your facility. Our Modular mezzanine floors are designed up to the height of 8-10 Feet to create additional storage space by utilizing the vertical expanse of your warehouse. Comprised of a series of platforms supported by columns, our Modular Mezzanine Floor in Delhi is MADE IN INDIA and offers a versatile solution for storing various goods such as pallets, bins, and boxes.
Advantages of Modular Mezzanine Floor in India:
Optimizes vertical storage space without the need for facility expansion.
Tailored design to accommodate specific space and storage requirements.
Ensures compliance with safety standards and regulations.
Reduces operational costs by streamlining inventory management.
Quick and hassle-free installation with minimal disruption.
Specifications Of Modular Mezzanine Floor
| | |
| --- | --- |
| Brand | MEX |
| Material | Mild Steel |
| Height | 8-10 Feet |
| Colour | Customized |
| Product Type | Storage Rack |
| Usage/Application | Industrial |
| Total Load Capacity | 300 to 1500 kg/m2 |
| Size | Customized |
| Surface Finishing | Paint Coated |
| Design | Modern |
| Country Of Origin | Made In India |
Why Choose Us as Leading Modular Mezzanine Floor Manufacturers in India?
As a renowned Modular Mezzanine Floors Manufacturer in India, we provide a wide range of high-quality systems to meet our customers' diverse needs. Here are some reasons why you should choose us:
Use premium quality Mild Steel materials, guaranteeing durable storage solutions.
Customized solutions tailored to your specific space and requirement.
Dedication to safety, compliance, and adherence to industry standards
Offer maximum storage capacity of up to 300 to 1500 kg/m2.
Cost-effective solutions that offer long-term value and return on investment
Reach out to the Leading Modular Mezzanine Floor Suppliers in India Today!
If you're seeking a trustworthy and affordable source for Modular Mezzanine Floors in India, get in touch with us. As one of the renowned Modular Mezzanine Floor Suppliers and Wholesalers in India, we will collaborate with you to design and install a solution that perfectly aligns with your unique needs.
Call us now to enquire or drop your demand over an email today.
Our Top Products With Manufacturers
Related Question
What Is A Modular Mezzanine Floor And What Sets Them Apart?

An adaptable and adjustable structural solution called a modular mezzanine floor enables the addition of additional floor space to an existing structure. They are made up of prefabricated components that are simple to erect, disassemble, and reconfigure as necessary, in contrast to standard mezzanine levels that are normally created using permanent construction techniques. They are the perfect option for companies that need flexible and scalable space because of their versatility.

Can A Modular Mezzanine Floor Be Installed In Any Type Of Building?

Modular mezzanine floors are made to be adaptable and may be utilised in a variety of buildings, including workplaces, storage facilities and industrial plants. They can be customized to meet specific building requirements and accommodate different load-bearing needs. With the right engineering and architectural considerations, modular mezzanine floors can be incorporated into almost any existing building.

What Advantages Do Modular Mezzanine Floors Offer Over Other Expansion Options?

One of the primary advantages of our modular mezzanine floors is their cost efficiency compared to traditional construction methods. Since they come prefabricated, installation requires less time, labor, and expense. Additionally, they provide the flexibility to adapt and expand the floor space as business needs evolve, offering a more scalable solution in contrast to fixed construction alternatives.

Are Modular Mezzanine Floors Compliant With Safety Regulations?

Yes, our modular mezzanine floors are designed and engineered to meet safety regulations. They go through thorough testing and are built using high-quality materials to guarantee their structural soundness and safety. When you choose our solution, we will provide you with the necessary records and certificates to demonstrate compliance with all relevant laws.

Can A Modular Mezzanine Floor Be Relocated Or Modified In The Future?

Absolutely! One of the key features of a modular mezzanine floor is its adaptability. If your business requirements change or you need to relocate to a different facility, modular mezzanine floors can be easily disassembled, relocated, and reconfigured to suit the new space. This makes them a cost-effective long-term investment as they can be repurposed and reused, minimizing waste and maximizing the value of your investment.