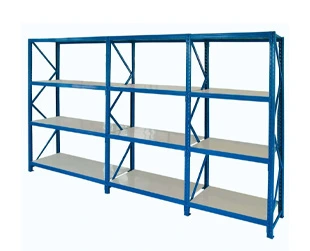 Slotted Angle Rack Manufacturers - Mexstorage System
It's time to discover the marvels of slotted angle racks if you've ever been overtaken by the mess in your garage, warehouse rack, or workplace. These versatile and dynamic storage systems have revolutionized the way we organize and store our belongings. From heavy-duty industrial applications to neat and tidy home setups, slotted angle racks offer a plethora of benefits that will leave you wondering how you ever managed without them.
MEX Storage Systems Pvt. Ltd is one of the best Slotted Angle Rack Manufacturers in Delhi who are committed to designing the most innovative and versatile storage solution that can take away your tension of storage in an industrial facility.

In this blog, we will delve into the world of industrial storage racks, exploring their various types and uncovering the countless advantages they bring to the table. So, let's dive in and discover how these humble yet ingenious structures can transform your storage woes into streamlined bliss!
Understanding The Concept of Slotted Angle Rack
Get ready to unlock the secrets of efficient storage! A slotted angle rack is a type of storage rack that is made up of two main components: angle irons and slotted metal rods. The angle irons provide the frame of the rack, while the slotted rods allow items to be easily inserted and removed. Tools, parts, and supplies may all be stored effectively and conveniently using these racks.

These ingenious structures are the superheroes of storage, offering a versatile and customizable solution for all your organization's needs. From warehouses to garages, offices to homes, heavy duty rack has become the go-to choice for the savvy organizer.
Types of Slotted Angle Rack
Slotted angle racks and industrial racks are versatile storage systems commonly used in warehouses, industrial facilities, offices, and retail stores. They are constructed using slotted angle iron, which consists of perforated steel angles with slots along their length. These slots allow for easy assembly and adjustment of shelves and accessories. Here are some common types of slotted angle racks:
Standard slotted angle rack: Basic, versatile racks with adjustable shelving using slotted angles and bolts.
Heavy-duty slotted angle rack: Designed to hold heavy loads and provide added stability and strength.
Boltless slotted angle rack: Easy to assemble racks without the need for bolts or additional tools.
Mobile slotted angle rack: Mounted on wheels for easy movement and flexibility.
Mezzanine slotted angle rack: Multi-level racks that maximize vertical storage space.
Pallet slotted angle rack: Specifically designed to store and organize pallets for efficient warehouse management.
Cantilever slotted angle rack: Ideal for storing long and bulky items, such as pipes, timber, or rods.
Multi-tier slotted angle rack: Racks with multiple tiers for organized storage of goods.
Archive slotted angle rack: Designed for document and file storage, often used in offices and libraries.
Industrial slotted angle rack: Heavy duty racks suitable for industrial settings, providing durability and strength.
Specification of Slotted Angle Rack
| | |
| --- | --- |
| Brand | MEX |
| Material | Mild Steel |
| Height | 1800 mm to 3000 mm |
| Length | 600 mm to 1200 mm |
| Colour | Customized |
| Product Type | Storage |
| Usage/Application | Industries & Warehouse |
| Load Capacity Per Layer | 150-200 kg, 200-250 kg |
| Size | Customized |
| Surface Finishing | Painted / Powder Coated |
| Design | Modern |
| Country Of Origin | Made In India |
Benefits of Using Slotted Angle Racks
Slotted angle racks offer several benefits in terms of storage and organization solutions. Here are some of the advantages of using slotted angle racks:
Efficient Space Utilization: Maximizes storage capacity by utilizing vertical space effectively.
Versatile Storage Solution: Suitable for various industries and applications, accommodating different types of goods.
Customizable and Adjustable: Shelves can be easily adjusted and customized to fit different sizes and shapes of items.
Easy Assembly and Disassembly: Quick and hassle-free installation without the need for specialized tools or expertise.
Cost-Effective: Affordable storage solution compared to other systems, reducing overall expenses.
Durable and Long-Lasting: Provides robust and reliable storage, capable of handling heavy loads and long-term use.
Organized Inventory Management: Allows for systematic storage, ensuring easy access and efficient inventory management.
Flexibility and Expandability: Easily reconfigured or expanded to adapt to changing storage needs and business growth.
Improved Workflow: Reduces clutter and enhances productivity by providing a well-organized storage system.
Applicable to Various Environments: Suitable for industrial, commercial, and even residential settings, offering versatile storage options.
How to Choose the Right Slotted Angle Rack?
When choosing a slotted angle rack, you will need to consider the following factors:
Determine Storage Needs: Assess your storage requirements, considering the types, sizes, and weights of items to be stored.
Space Availability: Measure the available space in your facility to ensure the rack will fit properly without hindering operations.
Load Capacity: Consider the maximum weight capacity of the rack to ensure it can handle the intended storage items.
Rack Size and Configuration: Select the appropriate rack size and configuration that aligns with your storage needs and space constraints.
Durability and Material: Choose racks made from sturdy materials like steel for long-lasting performance and durability.
Ease of Assembly: Consider racks that are easy to assemble without the need for complex tools or professional assistance.
Accessibility and Safety: Ensure the rack provides easy access to stored items and includes safety features like guards or supports.
Budget Considerations: Determine a budget range and select a rack that meets your requirements without exceeding your financial limits.
From Where to Buy Slotted Angle Rack
MEX Storage Systems Pvt. Ltd is one of the most reliable Industrial Rack Manufacturers in India and is the ideal choice to buy top-grade heavy duty storage racks and slotted angle racks to maximize your storage space at the best price without compromising on the quality.

Slotted angle racks are a versatile and efficient way to store a wide variety of items. They are capable of bearing heavy loads due to the fact that they are made up of durable materials. They are a practical means of storing your possessions.
Our Top Products With Manufacturers
Related Blogs